2013 Expected to be a Difficult Year in the Eurozone
2013 Expected to be a Difficult Year in the Eurozone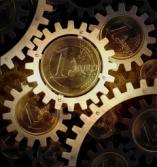 The euro soared on Wednesday morning, trading at 1.3270. When the US reached a fiscal cliff deal at the last minute, markets turned and risk appetite increased. The euro gained against the dollar as investors switched their money from the dollar to riskier currencies like the euro.
The fiscal cliff drove prices up, but as the eurozone moved into 2013, many wondered whether the common currency's recent positive streak would continue. German Chancellor Angela Merkel advised in her New Years address that things would get worse in 2013 before they got better, a sentiment European Central Bank President Mario Draghi expressed earlier in 2012.
Moving forward, the eurozone has many problems to overcome as many of its largest economies are still teetering on the brink of a debt crisis. Now, Italy is in the spotlight after Prime Minister Mario Monti suddenly and unexpectedly announced his resignation. After being urged by his peers to run for a second term in 2013, Reuters reported that he would seek alliances with any parties that agree with his pro-Europe agenda, and will try to win a majority in the parliamentary election in February.
This news could increase investor confidence in the nation, as most were shocked and saddened by Monti's resignation. His government's work is seen to have improved Italy's economic station and helped keep the third largest economy in Europe from slipping further into debt.
The European Central Bank will also be in the spotlight as it prepares for its first monthly meeting in 2013. Most are forecasting that the ECB will cut interest rates in January at a meeting scheduled for Thursday, January 12.
Tags: Angela Merkel, Mario Draghi, Mario Monti
Posted in: News, Commodities, Forex, Global, Markets, Best of Benzinga
Advertisement

Benzinga – Stock Market Quotes, Business News, Financial News, Trading Ideas, and Stock Research by Professionals