Apple CEO Vetoes Proposed Thanksgiving Day Opening of Additional Stores
Apple CEO Vetoes Proposed Thanksgiving Day Opening of Additional Stores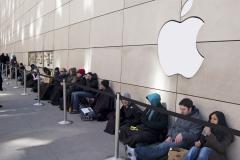 There's no doubt that Thanksgiving is losing its coveted spot as one of two holidays where the country grinds to a halt.
Each year more stores try to get a jump on Black Friday sales by opening at some point on Thanksgiving Day—always the fourth Thursday in November.
Apple (NASDAQ: AAPL), not a company to miss out on a sale, was internally considering opening more of its stores on Thanksgiving but CEO Tim Cook said no, cancelling plans already made by the company's marketing directors.
Last year, Apple stores in high volume markets opened on Thanksgiving Day. Those stores included the store on the Las Vegas Strip, Waikiki Beach in Hawaii, and the store on Fifth Avenue in New York City.
Apple's marketing directors reportedly lobbied Cook to allow stores in San Francisco, an additional New York City location, Chicago, Los Angeles, Honolulu, Miami, San Diego and Portland to open this year.
Related: Apple Might Increase the Price of the Upcoming iPhone 6
IFOAppleStore reported that marketing directors might have had other motives for opening the additional stores. Opening early could mean higher sales that amount to big bonuses added to their $ 400,000 salaries. Apple, like all retail establishments, generate the largest percentage of their yearly retail revenue during the last two months of the year.
Tim Cook reportedly vetoed the plans so employees could spend time with their families—a nice gesture for a company not known for its five-star treatment of employees.
Reports of low wages, long work hours, and HR policies have come under fire this year. In July, Apple was slapped with a lawsuit by current and former employees over its bag check policies.
Before employees can leave the store, an employee has to check their bags. While an employee waited for somebody to perform the check, they were not compensated for the time they spend in the store. This, according to complainants, added up to hours of unpaid wages and shortened breaks.
Then there's the constant scrutiny over the treatment of workers in foreign factories manufacturing Apple products. Apple, the largest company in the world by market cap, is under constant scrutiny by humanitarian watchdogs that are quick to go public with any alleged violation.
Sure, there could be a PR element to the whole, "I want employees to have time with their families" line but for now, let's just take it as a gesture of goodwill towards its employees.
Disclosure: At the time of this writing Tim Parker was long Apple.
Posted-In: Apple retail stores Tim CookNews Rumors Tech Best of Benzinga

Benzinga – Stock Market Quotes, Business News, Financial News, Trading Ideas, and Stock Research by Professionals