Benzinga's M&A Chatter for Friday December 28, 2012
Benzinga's M&A Chatter for Friday December 28, 2012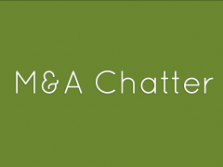 Brady Corp Acquires Precision Dynamics for $ 300M
The Deal:
Brady Corporation (NYSE: BRC) announced Friday, that it has acquired Precision Dynamics Corporation from Water Street Healthcare Partners, a strategic private equity firm focused exclusively on the health care industry, in a cash transaction for $ 300 million, subject to customary working capital and post-close adjustments.
Brady will hold a conference call to discuss this announcement at 8:30 AM ET on December 31, 2012.
Brady Corp closed at $ 32.73 Friday, a loss of 1% on lower than average volume.
TF Financial to Acquire Roebling Financial for $ 8.60/Share in Cash/Stock Deal
The Deal:
TF Financial (NASDAQ: THRD), the parent company of 3rd Fed Bank, and Roebling Financial (NASDAQ: RBLG), the parent company of Roebling Bank, jointly announced the execution of a definitive merger agreement under which TF Financial is to acquire Roebling Financial for approximately $ 14.5 million in TF stock and cash, or approximately $ 8.60 per share.
Under the terms of the merger agreement, Roebling Financial will be merged into TF Financial Corporation and Roebling Bank will be merged into 3rd Fed Bank. Roebling Bank branches will become 3rd Fed Bank branches. 50% of Roebling's shares will be converted into TF common stock and the remaining 50% will be converted into cash. Roebling shareholders will have the option to elect to receive either 0.3640 shares of TF common stock or $ 8.60 in cash for each Roebling common share, subject to proration to ensure that in the aggregate 50% of the Roebling shares will be converted into stock. The transaction is intended to qualify as a tax-free reorganization for federal income tax purposes. The merger is expected to close during the second or third quarter of 2013, and is expected to be accretive to TF's earnings, exclusive of merger costs, in the second half of 2013.
TF Financial closed at $ 4.84 Friday, a gain of 4% on twice average volume.
FLIR Systems Acquires Traficon International for $ 46M
The Deal:
FLIR Systems (NASDAQ: FLIR) announced Friday, that it has acquired the stock of Traficon International NV, a leader in video detection technologies for traffic applications, for approximately $ 46 million in cash. FLIR anticipates this transaction will be neutral to 2013 net earnings and accretive thereafter.
FLIR System closed at $ 22.09 Friday, a loss of $ 0.11 on average volume.
Perrigo Acquires Remaining Stake In Cobrek Pharmaceuticals for $ 45M
The Deal:
Perrigo Company (NASDAQ: PRGO) announced Friday, that it has signed a definitive merger agreement and has completed the acquisition of Cobrek Pharmaceuticals, a privately-held, Chicago, Illinois-based drug development company, for approximately $ 45 million on a cash free and debt free basis.
In May 2008, Perrigo acquired an 18.5% minority stake in Cobrek in conjunction with entering into a product development collaborative partnership agreement with the company focused on foam dosage form generic pharmaceutical products.
Perrigo closed at $ 102.28 Friday, a loss of 1% on lower than average volume.
Posted in: Long Ideas, News, Short Ideas, M&A, After-Hours Center, Movers, Trading Ideas
Advertisement

Benzinga – Stock Market Quotes, Business News, Financial News, Trading Ideas, and Stock Research by Professionals