Benzinga's M&A Chatter for Wednesday July 16, 2014
Benzinga's M&A Chatter for Wednesday July 16, 2014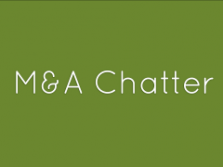 The following are the M&A deals, rumors and chatter circulating on Wall Street for Wednesday July 16, 2014:
Time Warner Rejects $ 85/Share Bid from Fox
The Offer:
Shares of Time Warner (NYSE: TWX) surged to a high of $ 87.00 in the premarket Wednesday, on a report from CNBC, that it had rejected an offer of $ 85.00 per share from Twenty-First Century Fox (NASDAQ: FOXA). Time Warner confirmed the proposal of 1.531 of Twenty-First Century Fox Class A non-voting common shares and $ 32.42 in cash, per Time Warner share.
Time Warner's Board determined the offer was not in the best interests of Time Warner or its shareholders and decided not to pursue any discussions with Twenty-First Century Fox
Time Warner closed Wednesday at $ 83.13 a gain of 17%, while Twenty-First Century Fox shares lost 6%, to close at $ 33.00.
Zillow Acquires Retsly, Terms Not Disclosed
The Deal:
Zillow (NASDAQ: Z) announced Wednesday, it has acquired real estate software company Retsly. Terms of the deal were not disclosed.
Zillow closed Wednesday at $ 129.32, a gain of $ 0.28
Chart Acquisition Agrees to Business Combination With Tempus Jets Valued at $ 140M
The Deal:
Chart Acquisition (NASDAQ: CACG) announced Wednesday, that it has agreed to complete a business combination transaction with Tempus Intermediate Holdings. A subsidiary of Chart will issue to the equity holders of Tempus, equity interests exchangeable for approximately 10 million shares of Chart's common stock and will assume liabilities of Tempus, for a total purchase price of $ 140 million.
Chart Acquisition shares closed Wednesday at $ 10.07, a gain of 1%.
Posted-In: CNBC News Rumors M&A Movers Media

Benzinga – Stock Market Quotes, Business News, Financial News, Trading Ideas, and Stock Research by Professionals