Benzinga's Weekend M&A Chatter
Benzinga's Weekend M&A Chatter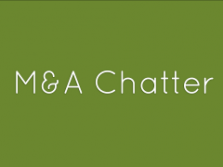 The following are the M&A deals, rumors and chatter circulating on Wall Street for Friday September 27 through Sunday September 29, 2013
Shanghai Pudong Science and Technology Investment Co Proposes to Acquire RDA Microelectronics for $ 15.50/ADS in Cash
The Offer:
RDA Microelectronics (NASDAQ: RDA) announced Friday that its Board of Directors received an unsolicited, preliminary non-binding proposal letter dated September 27, 2013 from Shanghai Pudong Science and Technology Investment Co. to acquire all of the outstanding American Depositary Shares of the Company for $ 15.50 in cash per ADS.
RDA's Board of Directors is reviewing PDSTI's proposal.
RDA Microelectronics closed at $ 15.54 Friday, a gain of 12% on 9 times average volume.
Toray Industries to Acquire Zoltek in Takeunder for $ 16.75/Share in Cash
The Deal:
Zoltek Companies (NASDAQ: ZOLT) announced Friday that it has entered into a merger agreement with Toray Industries, under which, Toray will acquire all of Zoltek`s outstanding shares for $ 16.75 per share in cash, or approximately $ 584 million.
The deal is expected to close in late 2013 or early 2014. Zoltek shares had closed at $ 18.51 on Thursday. Multiple lawsuits are being filed.
Zoltek closed at $ 16.70 Friday, a loss of almost 10%.
Posted-In: News Rumors M&A Movers

Benzinga – Stock Market Quotes, Business News, Financial News, Trading Ideas, and Stock Research by Professionals