Benzinga's Weekend M&A Chatter
Benzinga's Weekend M&A Chatter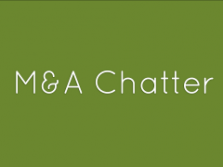 The following are the M&A deals, rumors and chatter circulating on Wall Street for Friday October 11 through Sunday October 13, 2013:
Yahoo Acquires Social Media Advertising Platform Bread
The Deal:
View Bread CEO Alan Chan announced Sunday Bread CEO Alan Chan announced Sunday that his company has been acquired by Yahoo (NASDAQ: YHOO). Terms were not disclosed
Yahoo closed at $ 34.15 Friday, a gain of $ 0.28
Reports Men's Wearhouse, Jos A Bank Talks Ongoing
The Rumor:
Shares of Men's Wearhouse (NYSE: MW) and Jos. A Bank (NASDAQ: JOSB) rose Friday on a report from The Deal that the two companies have ongoing talks. Men's Wearhouse rejected a $ 48 per share bid from Jos. A Bank on October 9.
Spokespersons for the two companies were unavailable for comment on Friday. Men's Wearhouse shares gained 3% Friday, closing at $ 49.95, Jos. A Bank gained 7%, closing at $ 48.67.
Westpac to Acquire Lloyds Banking Group's Australian Asset Finance Business for AUD $ 1.45B
The Deal:
Westpac (NYSE: WBK) today announced Friday it has agreed to acquire Lloyds Banking Group's (NYSE: LYG) Australian asset finance business, CFAL, and its corporate loan portfolio, BOSI, for AUD $ 1.45 billion.
Lloyds Banking Group closed at $ 4.95 Friday, a gain of 1.5%, while Westpac shares gained almost 2%, closing at $ 31.55
Posted-In: News Rumors M&A Global

Benzinga – Stock Market Quotes, Business News, Financial News, Trading Ideas, and Stock Research by Professionals