Benzinga's Weekend M&A Chatter
Benzinga's Weekend M&A Chatter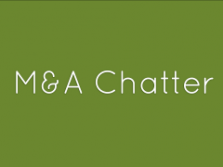 The following are the M&A deals, rumors and chatter circulating on Wall Street for Friday August 9, 2013 through Sunday August 11, 2013:
Blackberry Reportedly Considers 'Going Private' Option
The Rumor:
Shares of Blackberry (NASDAQ: BBRY) rose more than $ 1.00 in the pre-market Friday on a report from Reuters that the company is perhaps open to the idea of being taken private and out of the public eye. Sources said no deal was imminent.
A spokesperson for Blackberry declined comment on the rumor.
Blackberry closed at $ 9.76 Friday, a gain of 5.74% on more than twice average volume.
Proofpoint to Acquire Armorize Technologies for $ 25M
The Deal:
Proofpoint (NASDAQ: PFPT) announced Friday that it has agreed to acquire Armorize Technologies, a developer of cloud-based anti-malware products, for approximately $ 25 million in cash. The deal is expected to close in Q3 2013.
Proofpoint closed at $ 29.00 Friday, a loss of $ 0.18 on average volume.
America Movil Offers $ 9.6B for 70% of KPN
The Offer:
Carlos Slim's America Movil (NYSE: AMX) bid $ 9.6 billion Friday to acquire the 70 percent of Dutch telecoms group KPN (OTC: KKPNY) that it does not already own. América Móvil currently owns a 29.77% stake in KPN.
America Movil closed at $ 20.97 Friday, a loss of 6% on 2.5 times average volume.

Benzinga – Stock Market Quotes, Business News, Financial News, Trading Ideas, and Stock Research by Professionals