Boeing Train Derails; Fuselages Dumped In River, Production Disruptions Likely
Boeing Train Derails; Fuselages Dumped In River, Production Disruptions Likely
In the afternoon hours of Thursday July 3rd Boeing (NYSE: BA) had three complete 737 fuselages, 777 fuselage panels, and wing parts for a single 747 jumbo jet dumped into the Clark River in Montana after a train derailment. The train, traveling 31mph on a track with a limit of 35mph, was heading to Boeing's plant in Washington state when 19 cars of the 90-car train derailed.  No one was injured  The parts being transported were manufactured by Spirit AeroSystems Holdings (NYSE: SPR) according the Wall Street Journal and heading to Boeings Renton plant.  
Montana Rail Link Inc. was operating the train at the time of the crash.  The train was originally contracted by Boeing through BNSF Railway, a unit of Berkshire Hathaway (NYSE: BRK-B), and control was transferred to MRL when the cargo crossed into Montana.  MRL spokeswoman Lynda Frost stated the removal of the hulls may take two days.  Ms. Frost also said in an interview with Bloomberg that "We've never done this before" and also said that the plan in place involves "dragging them [the cargo] up the bank [of the river]".
When Boeing constructs aircraft, the company uses various means to bring in all the necessary parts for assembly.  Questions about production disruptions were pushed aside by a Boeing spokesman who said no forecasts are available currently regarding the extent, if any, to production.
The news could impact trading on Monday as market particpants return from the Fourth of July weekend.  Potential ETFs to watch in the Transportation category are:
CARZ – First Trust NASDQ Global Auto Index Fund
FAA – Guggenheim Airline ETF
IYT – iShares Transportation Average ETF
XTN – SPDR S&P Transportation ETF

FLYX – Airline Shares
Boeing closed up roughly 1 percent on Thursday at $ 128.51.  Spirit Airlines closed  up 0.30 percent at $ 34.24.  
Stock chart: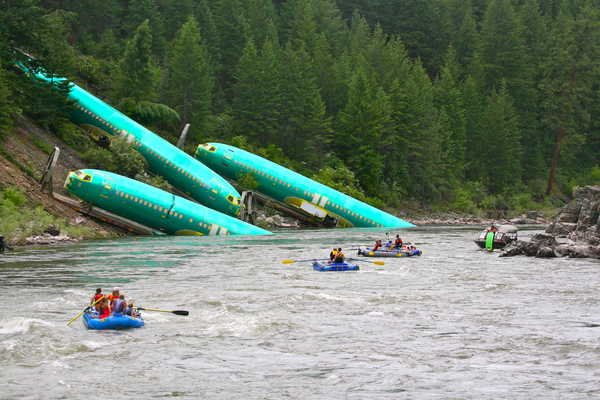 Posted-In: News Sector ETFs Top Stories Hot ETFs

Benzinga – Stock Market Quotes, Business News, Financial News, Trading Ideas, and Stock Research by Professionals