Defined Risk In Microsoft
Defined Risk In Microsoft
The following article is from one of our external contributors. It does not represent the opinion of Benzinga and has not been edited.
by Joel Elconin, premarketinfo.com
While the S&P 500 index is up approximately 10 percent for the year, one of its top components, Microsoft (NASDAQ: MSFT), is up less than 2 percent.  In fact, MSFT made a new 52 week low yesterday at $ 26.26.  Despite the poor relative strength, I think the tide may be turning.
Fundamentally speaking, MSFT is trading at a modest price/earnings ratio of 14 and has been punished since its earnings report that fell short of the street's estimates.  However, the earnings shortfall may be attributed to the fact that its flagship products had not yet been launched.  Window 8 did not launch until the end of October but has been met with mixed reviews.  Windows Phone 8 has drawn mostly positive reviews and will likely add something to the bottom line in the upcoming quarter.  But the real future driver of earnings may be the Surface product.  While it isn't a serious threat to the iPad, it will attract dedicated Windows fans (such as myself).  It includes Microsoft Office which is a huge consideration for the business user, and the fact that the new surface Pro will run on Windows 8, and do pretty much everything that your PC can do is a seriously attractive feature.  Even if they get a small piece of the tablet market, that could really help the bottom line.
But what really sparks my interest in this beaten-down issue is the technicals.  After making a low at 26.34 on November 16th, MSFT has survived a bona fide retest of that level and appears to be passing it.  Since breaching that level earlier yesterday, MSFT has rebounded.  As long as MSFT can hold above that $ 26.26 low, I like the risk-return.
For longer-term investors that are considering purchasing MSFT at its current price of $ 26.75, its hefty 3.4% dividend provides almost one point of downside protection.  For shorter-term investors who are purchasing MSFT at this level, you may want to exit if the $ 26.26 low is breached. If you use the $ 27.77 high from November 23rd as a target, that is $ 1.02 return for only 49 cents of risk, a better than 2:1 risk-reward ratio.
In the past, MSFT has made several similar technical formations with clusters of highs or lows in a defined area.  On many of these occasions, this has signaled a key reversal in the issue.  Based on the technical pattern emerging now in MSFT, investors may want to consider adding MSFT to their portfolio as a way to participate in the possible Santa Claus rally.  At the very least, you are entering a trade based on a fairly reliable technical pattern with defined risk and reward parameters.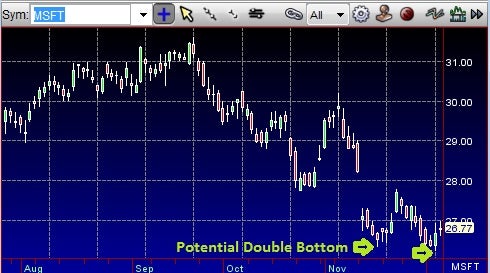 Posted in: Technicals, Trading Ideas
Advertisement

Benzinga – Stock Market Quotes, Business News, Financial News, Trading Ideas, and Stock Research by Professionals