DISH Network and Disney Reportedly Closing in on Programming Deal
DISH Network and Disney Reportedly Closing in on Programming Deal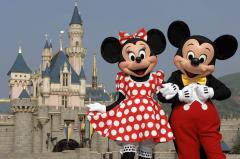 It looks like the dispute between Dish Network (NASDAQ: DISH) and Walt Disney (NYSE: DIS) over programming issues may be resolved without the much-feared blackout of some very popular cable channels for Dish subscribers.
At issue is the satellite-television provider's carriage of some much-watched programming owned by The Mouse, including ESPN, The Disney Channel and ABC-owned stations in several major cities. That arrangement expired at the end of September, but both sides agreed to a short-term extention.
Related: DISH Network Reports Q3 Earnings
Disney is not happy with Dish's Hopper DVR, which allows users to automatically avoid commercials during recorded shows. Variety reports ABC and other networks are suing Dish over the Hopper, "arguing that it violates copyrights and distribution agreements."
The entertainment industry newspaper noted that on Tuesday, during a conference call after Dish's better-than-expected third quarter results, network co-founder and chairman Charlie Ergen said he was "cautiously optimistic" about reaching a long-term deal with Disney – but noted that "we're prepared to go either way."
Disney CEO Robert Iger, meanwhile, is staying upbeat., but says a deal with Dish might take some time. Last week, Deadline Hollywood web site quoted Iger as saying the company wants to be "open minded and modern in our thinking." But he also warned that Disney will be "steadfast in our strategy to protect the value of our intellectual property."
Just last week, Dish announced it was closing down the 300 remaining Blockbuster video stores, as well as its DVD-by-mail service – noting that consumer demand "is clearly moving to digital distribution of video entertainment."
Related: Disney Earnings Follow Up
And Reuters reports that while Dish and rival satellite service DirecTV (NASDAQ: DTV) added more customers during the third quarter, cable providers like Comcast (NASDAQ: CMCSA), Time Warner Cable (NYSE: TWC) and Charter Communications (NASDAQ: CHTR) all reported video subscriber losses.
"Dish's Q3 operating results were surprisingly good, as were DirecTV's, boosted perhaps by the travails at Time Warner Cable, which got smoked in its programming dispute with CBS (NYSE: CBS)," Craig Moffett, a research analyst at MoffettNathanson told the wire service.
Follow us on Twitter.
Posted-In: Blockbuster Charlie Ergen Craig Moffett media MoffettNathanson Robert Iger telecommunicationsNews Contracts Tech Media General Best of Benzinga

Benzinga – Stock Market Quotes, Business News, Financial News, Trading Ideas, and Stock Research by Professionals