Earnings Expectations For The Week Of December 2
Earnings Expectations For The Week Of December 2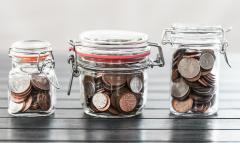 Quarterly reports from retailers Kroger (NYSE: KR), Aeropostale (NYSE: ARO), American Eagle Outfitters (NYSE: AEO) and Dollar General (NYSE: DG) will be among the highlights this week. A couple of Chinese solar companies and the big Canadian banks are scheduled to report as well.
Below is a quick look at what analysts expect from some of this week's most prominent earnings reports.
See also: Weekly Preview: Europe's Central Banks In The Spotlight
Aeropostale
In its report late Wednesday, this mall-based specialty retailer is expected to post a net loss of $ 0.24 per share for the third-quarter, compared to a profit of $ 0.31 per share in the year-ago period. Note that 60 days ago the consensus forecast called for a net loss of just $ 0.23 per share.
Revenues for the quarter are predicted to have fallen more than 14 percent year-over-year to $ 520.04 million. Looking ahead, so far falling revenues and net losses are forecast for the current quarter and for the full fiscal year as well.
American Eagle Outfitters
The fiscal third-quarter forecast for this competitor to Aeropostale calls for earnings per share (EPS) of $ 0.19 and for revenues to total $ 845.98 million. But that would be down from $ 0.41 per share and $ 910.37 million in sales in the year-ago period. Note though that the analysts had expected a profit of only $ 0.15 per share for the third quarter just 30 days ago.
For the current quarter, which includes most of the holiday shopping season, another year-over-year decline in EPS and revenue is in the consensus forecast. The Pittsburgh-based company is scheduled to share its results Friday before the markets open.
Brown-Forman
Third-quarter earnings from this maker of Jack Daniel's and other spirits are expected to come to $ 0.91 per share on $ 1.04 billion in revenue in Wednesday's report. In the same period of the previous year, the company reported $ 0.80 per share and sales of $ 1.01 billion.
However, Brown-Forman (NYSE: BR-B) fell short consensus EPS expectations in the previous two quarters. The consensus estimate for the most recent quarter is the same as it was 60 days ago. So far, year-over-year growth in EPS but a slip in revenue is forecast for the current quarter.
Dollar General
This operator of around 11,000 discount stores is forecast to report earnings of $ 0.70 per share in Thursday morning's report. That would be up from the $ 0.63 per share in the year-ago period. Note that the company has not fallen short of consensus EPS expectations in the past four quarters.
The company also is expected to say that revenues totaled $ 4.42 billion in the third quarter, which would be higher than a year ago by more than 11 percent. So far, sales and earnings results for the current quarter are expected to be up sequentially and year-over-year.
Kroger
Analysts expect the Cincinnati-based supermarket operator to say that its per-share earnings rose more than 13 percent year-over-year to $ 0.53 in the fiscal third quarter. Also, revenues for the quarter are estimated to be more than four percent higher to total $ 22.77 billion.
Note that Kroger matched consensus EPS estimates in the previous quarter, after three quarters of earnings beats. However, the estimate for the third quarter has remained unchanged in the past 60 days. Look for the report Thursday before the opening bell.
See also: New Keurig Machine Unlikely To Stop Competitors, OTR Global Reports
And Others
China Sunergy (NASDAQ: CSUN) and ReneSola (NASDAQ: SOL) are expected to post net losses that are smaller than a year ago when they share their results this week.
Year-over-year EPS growth is expected from Bank of Nova Scotia (NYSE: BNS), Canadian Imperial Bank (NYSE: CM), Royal Bank of Canada (NYSE: RY) and Toronto-Dominion Bank (NYSE: TD), but an earnings decline from Bank of Montreal (NYSE: BMO).
Analysts also are looking for earnings growth this week from Avago Technologies (NASDAQ: AVGO) and Krispy Kreme Doughnuts (NYSE: KKD)
Coming up in the following weeks, watch for quarterly results from Adobe Systems (NASDAQ: ADBE), Costco (NASDAQ: COST), FedEx (NYSE: FDX), Lululemon Athletica (NASDAQ: LULU), Smith & Wesson (NASDAQ: SWHC) and more.
Keep up with all the latest breaking news and trading ideas by following us on Twitter.
Posted-In: adobe systems Aeropostale American Eagle Outfitters avago technologies Bank of Montreal Bank of Nova Scotia Brown-Forman Canadian Imperial Bank China Sunergy Costco dollar general fedex Krispy Kreme Doughnuts Kroger Lululemon Athletica ReneSola Royal Bank of Canada Smith & Wesson Toronto-Dominion BankEarnings News Previews Trading Ideas Best of Benzinga

Benzinga – Stock Market Quotes, Business News, Financial News, Trading Ideas, and Stock Research by Professionals