Earnings Expectations For The Week Of October 21: The Crunch Is On
Earnings Expectations For The Week Of October 21: The Crunch Is On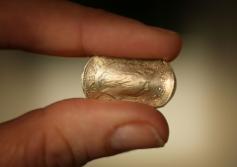 Lots of quarterly reports are on deck this week, to go along with all the delayed economic data expected to be released. Analysts and investors should have plenty to mull over.
Earnings highlights will include reports from AT&T, McDonald's, Microsoft and Netflix, which are all expected to post year-over-year earnings growth. Analysts are looking for an earnings decline from Ford and a net loss from Amazon.com.
Below is a quick day-by-day run down of analyst expectations for some of the week's most prominent reports.
Monday
McDonald's (NYSE: MCD) gets things started Monday morning, while Netflix (NASDAQ: NFLX) shares its results later in the day.
The fast-food giant is expected to say that earnings per share (EPS) grew more than five percent year-over-year to $ 1.51, while revenue rose less than three percent to $ 7.34 billion. The forecast for Netflix has EPS more than 73 percent higher to $ 0.49 on revenue that is up more than 21 percent to $ 1.1 billion.
See also: McDonald's Earnings Preview: Was The Menu Tinkering Worth It?
Others forecast to report year-over-year earnings growth on Monday include Halliburton (NYSE: HAL), Hasbro (NASDAQ: HAS), SAP (NYSE: SAP) and Texas Instruments (NASDAQ: TXN).
EPS from Discover Financial Services (NYSE: DFS) are expected to be the same as a year ago, while an earnings decline is predicted from Gannett (NYSE GCI).
Tuesday
Delta Air Lines (NYSE: DAL) is scheduled to share its third-quarter results Tuesday before the opening bell. The forecast has EPS up almost 34 percent year-over-year to $ 1.36 on revenue that is more than five percent higher to $ 10.47 billion.
Amgen (NASDAQ: AMGN), DuPont (NYSE: DD), Harley-Davidson (NYSE: HOG), Juniper Networks (NASDAQ: JNPR), Kimberly-Clark (NYSE: KMB), Panera Bread (NASDAQ: PNRA) and United Technologies (NYSE: UTX) are expected to post earnings growth as well.
Analysts are looking for earnings declines from Coach (NYSE: COH), Freeport-McMoRan Copper & Gold (NYSE: FCX) and Travelers Companies (NYSE: TRV) when they report Tuesday, as well as another net loss from RadioShack (NYSE: RSH).
Wednesday
Before the opening bell, Boeing (NYSE: BA) is expected to say that its EPS came to $ 1.55 and revenue totaled $ 21.68 billion. That would be up from $ 1.35 per share and $ 20.01 billion in revenue in the year-ago period.
After the trading session ends, AT&T (NYSE: T) is expected to post $ 0.76 per share and $ 1.71 billion in revenues. But that would be down year-over-year from EPS of $ 0.86 and revenue of $ 1.77 billion.
Wednesday morning, also look for earnings growth from American Electric Power (NYSE: AEP), Brinker International (NYSE: EAT), Bristol-Myers Squibb (NYSE: BMY), Eli Lilly (NYSE: LLY), Northrop Grumman (NOC) and U.S. Airways (NYSE: LCC).
Then later in the day, Cheesecake Factory (NASDAQ: CAKE), O'Reilly Automotive (NASDAQ: ORLY) and Wynn Resorts (NASDAQ: WYNN) are expected to join the earnings gainer parade.
But the forecasts for Caterpillar (NYSE: CAT), General Dynamics (NYSE: GD) and WellPoint (NYSE: WLP) call for earnings declines.
Thursday
Thursday will be the busiest day of the week for earnings, and the early morning report from Ford Motor (NYSE: F) will be one of the highlights. The automaker is expected to say that EPS fell more than seven percent from a year ago to $ 0.37, but that revenues grew about 13 percent to $ 34.21 billion.
Potash Corp. of Saskatchewan (NYSE: POT), Royal Caribbean Cruises (NYSE: RCL), Outerwall (NASDAQ: OUTR) and Western Digital (NASDAQ: WDC) also are likely to report declining earnings on Thursday.
The day's other highlights include the end-of-the-day reports from Amazon.com (NASDAQ: AMZN) and Microsoft (NASDAQ: MSFT). The consensus forecasts call for a net loss of $ 0.09 from the former and EPS of $ 0.54 (up marginally) from the latter. Amazon's revenues are expected to be up more than 21 percent to $ 16.77 billion, while those from Microsoft are about 11 percent higher to $ 17.78 billion.
Altria (NYSE: MO), Colgate-Palmolive (NYSE: CL), Dow Chemical (NYSE: DOW), Dunkin' Brands (NASDAQ: DNKN) and Hershey (NYSE: HSY) are expected to show earnings growth in their reports Thursday.
So are Express Scripts (NASDAQ: ESRX), Southwest Airlines (NYSE: LUV) and 3M (NYSE: MMM).
But analysts expect Zynga (NASDAQ: ZNGA) to post a net loss.
Friday
Procter & Gamble (NYSE: PG) and United Parcel Service (UPS) step into the earnings spotlight Friday morning. They are forecast to have EPS of $ 1.05 and $ 1.15, respectively. That would be down marginally for the former and up almost eight percent for the latter, relative to a year ago.
Revenues for the consumer products giant are expected to be marginally higher to $ 21.06 billion. For the package delivery company, revenues are predicted to come in at $ 13.60 billion, or up about four percent year-over-year.
Sherwin-Williams (NYSE: SHW) is expected to show earnings growth as well, while analysts believe National Oilwell Varco (NYSE: NOV) and Rockwell Collins (NYSE: COL) will say that their earnings declined from the year-ago period.
See also: Weekly Preview: Earnings Season Continues, Delayed U.S. Data To Hit Markets
Follow us on Twitter.
Posted-In: 3M altria Amazon.com American Electric Power amgen AT&T Boeing Brinker International bristol-myers squibb Caterpillar cheesecake factory Coach colgate-palmolive Delta Air Lines discover financial services dow chemical Dunkin' Brands DuPont eli lilly express scripts Ford Freeport-McMoRan Copper & Gold gannett general dynamics halliburton Harley-Davidson hasbro Hershey Juniper Networks Kimberly-Clark McDonald's Microsoft National Oilwell Varco Netflix Northrop Grumman O'Reilly Automotive Outerwall Panera Bread Potash Corp. of Saskatchewan procter & gamble radioshack rockwell collins royal caribbean cruises SAP Sherwin-Williams Southwest Airlines texas instruments Travelers Companies U.S. Airways United Parcel Service united technologies ups WellPoint western digital Wynn Resorts ZyngaEarnings News Previews Trading Ideas Best of Benzinga

Benzinga – Stock Market Quotes, Business News, Financial News, Trading Ideas, and Stock Research by Professionals