Fire at Bangladesh Garment Factory Destroys Months of Stock for Major Western Retailers
Fire at Bangladesh Garment Factory Destroys Months of Stock for Major Western Retailers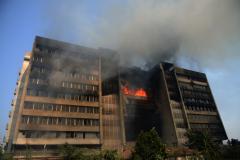 A fire at one of Bangladesh's largest garment factories, an apparent act of arson, could put a big dent in deliveries for some major Western retailers.
There were no reports of injuries after Friday's fire, which gutted the ten-story factory localed outside the Bangladeshi capital, Dhaka. Several freight trucks were also reportedly burned.
Women's Wear Daily says the factory is owned by the Standard Group of Companies, one of Bangladesh's biggest manufacturers. And WWD, quoting officials at the Bangladesh Garment Manufacturer and Exporters Associaiton, reports that company produces clothing for North American and European firms such as Wal-Mart (NYSE: WMT) , Gap (NYSE: GPS) and British retailer Marks and Spencer.
See also: Who Would You Rather…AOL or Yahoo?
A Reuters photographer at the scene also reported seeing burned clothing with brand names from other U.S. companies, such as Sears (NASDAQ: SHLD) and American Eagle Outfitters (NYSE: AEO), scattered on the floor of the destroyed factory.
A senior manager for the Standard Group said the factory had stored stock for its retailers for the next six months.
"We were the biggest supplier of Gap in Bangladesh," he told Reuters. "Our cargoes were ready for shipment and all that was burnt up."
The wire service says the fire put up to 18,000 employees out of work – and may have been set by workers angry over the rumored death of a colleague, allegedly at the hands of local police.
As Benzinga recently reported, Bangladesh is second only to China in the production of apparel for export. Bangladesh's $ 22 billion garment industry is essential to the nation's economy – but it has also come under criticism and intense international scrutiny following a series of horrific and deadly accidents at several Bangladeshi factories.
A grou of major retailers from North America and Europe recently announced an agreement to establish minium fire and structural safety standard inspections in Bangladesh textile factories. The Bangladeshi government, meanwhile, approved a 77 percent pay increase for workers in those factories — to around $ 68 monthly for entry-level employees.
Posted-In: Bangladesh Bangladesh exports Bangladesh factory safety China factory accidents Marks & Spencer Marks and Spencer retail manufacturers retailer salesNews Emerging Markets Global Economics Markets Best of Benzinga

Benzinga – Stock Market Quotes, Business News, Financial News, Trading Ideas, and Stock Research by Professionals