Japan is Apple's Fastest Growing Market
Japan is Apple's Fastest Growing Market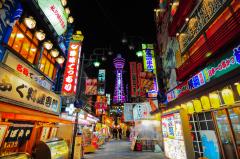 Many investors had speculated that an imminent China Mobile (NYSE: CHL) deal would make China Apple's (NASDAQ: AAPL) fastest growing market. While it is unclear when (or if) such a deal would occur, Japan currently holds ranks as the company's fastest growing market.
The Wall Street Journal on Monday reported that not only is Japan Apple's fastest growing market, but the country is home to Apple's largest profit margins — 50 percent compared with 35 percent in the rest of the world. Japan is also the only region where operating profit grew in the recent fiscal year.
Helping Apple achieve success in one of the world's most technologically advanced consumer electronics market is its recent agreement with NTT DoCoMo. NTT DoCoMo is Japan's largest wireless carrier and began selling the iPhone for the first time in late September. The agreement coincided with the launch of the the iPhone 5s and iPhone 5c.
NTT DoCoMo has been aggressively discounting the iPhone and offering incentives to attract existing subscribers to switch from other phones. This has prompted other providers, such as KDDI and SoftBank, to counter with discounts of their own. This has resulted in all three providers offering the iPhone 5s for no upfront cost to customers.
Apple's success in Japan can be partially attributed to the fact that Samsung (OTC: SSNLF) has a very small presence in the country. Samsung ranks fourth in Japan behind Apple, Sony (NYSE: SNE) and Sharp mostly due to a Japanese consumer bias that is generally negative towards Korean brands.
Posted-In: iPhone NTT DOCOMO SoftbankNews Best of Benzinga

Benzinga – Stock Market Quotes, Business News, Financial News, Trading Ideas, and Stock Research by Professionals