Market Wrap For Friday, September 6: Late Day Sell Off on Anticipation of Weekend Syria Stand Off
Market Wrap For Friday, September 6: Late Day Sell Off on Anticipation of Weekend Syria Stand Off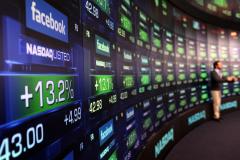 After falling as much as one percent on Obama and Putin's comments on Syria, markets rallied to finish the day unchanged. This is the fourth day in a row of volatility and minor gains.
Major Indexes
The Dow Jones Industrial Average dropped 14.98 points, or 0.1 percent closing at 14,922.50.
The S&P 500 added 0.09 points, or 0.01 percent ending at 1,655.17.
The NASDAQ Composite rose by 1.23 points, or 0.03 percent to end at 3,660.01.
The Russell 3000 rose points 1,07, or 0.11 percent to finish the week at 991.3.
Syria
For the past two weeks, uncertainty over Syrian war has sent markets up and down. Today there was almost a one percent swing as Obama meets with the G20 to rally support and Putin speaks to preserve Syria's sovereignty.
Job Data
Unemployment for August was 7.3 percent, down 0.1 percent from July. Nonfarm payrolls rose by 169,000, coming in below economist expectations. The manufacturing sector strongly outperformed expectations, while the private sector fell far below.
Stock Movers
Quiksilver (NYSE: ZQK) shot up 31.73 percent to $ 6.85 after the company reported strong third-quarter earnings.
VeriFone Systems (NYSE: PAY) got a boost, moving up 10.04 percent to $ 22.80 after the company reported better-than-expected fiscal third-quarter results.
Mattress Firm Holding (NASDAQ: MFRM) dropped 14.63 percent to $ 35.59 after the company reported weak second-quarter results and lowered its forecast.
MannKind (NASDAQ: MNKD) shares tumbled 6.98 percent to $ 5.86 after Bank of America downgraded the stock from Neutral to Underperform.
Smith & Wesson Holding (NASDAQ: SWHC) gave up 10.19 percent to $ 10.31 after the company issued a downbeat Q2 forecast.
Volume and Volatility
After a light day of trading yesterday, volume picked up to finish the week. Heading into the close, more than 130 million shares of the SPDR S&P 500 ETF (NYSE: SPY) trade, compared to the 110 million average.
The CBOE measure of volatility fell 0.7 percent today to finish near 15.66. This is an eight percent drop since Tuesday's open.
Commodities
Oil continued gains on the day with WTI up 2.04 percent to $ 110.58 and Brent gaining 0.7 percent to reach $ 116.07. Correspondingly, gasoline futures got a bump up 0,47 percent to $ 284.93.
Metals picked up some ground today after doubts of intervention in Syria sent them lower earlier this week. Gold futures are approaching $ 1,400 again, up 1.23 percent to $ 1,389.90. Silver futures rose 2.69 percent to $ 23.88 nearing the close.
Bonds
Market uncertainty drove bonds higher on the day. The iShares Barclays 20+ Year Treasury ETF (NYSE: TLT) was up 0.52 percent at last check to $ 103.06.
Posted-In: Gold jobs Market Wrap Oil SyriaBonds News Futures Commodities Global Econ #s Economics After-Hours Center Markets Best of Benzinga

Benzinga – Stock Market Quotes, Business News, Financial News, Trading Ideas, and Stock Research by Professionals