Market Wrap For Monday, September 16: Investors Seem Oblivious To Looming Obstacles
Market Wrap For Monday, September 16: Investors Seem Oblivious To Looming Obstacles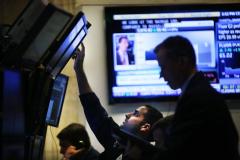 Despite monstrous looming economic hurdles, equity markets pushed higher.
Last Wednesday, the Federal Reserve is expected to announce reduction of its $ 85 billion bond buying program, confrontation with Syria is still a possibility, and the government is expected to run out of money next month.
The Nasdaq had been outperforming the Dow and S&P for the past two months, but is now showing signs of as Apple (NASDAQ: AAPL), which seems to make up half the index, is tumbling.
Major Averages
The Dow Jones Industrial Average rose 52 points, or 0.34 percent, to just below 15,388.
The S&P 500 climbed 9.61 points, or 0.57 percent, to 1,697.60.
The Nasdaq lost 4.34 points points, or 0.12 percent, to close at 3,717.85.
The Russell 3000 rose 4.80 points, or 0.48 percent, to close at 1,016.22.
Equities Closed UP
McEwen Mining (NYSE: MUX) gained 11.35 percent to $ 2.55 on Monday's session following some leadership changes announced on Friday after the close. 
Shares of Avanir Pharmaceuticals (NASDAQ: AVNR) got a boost, shooting up 7.35 percent to $ 4.38 on Piper Jaffray comments. 
Packaging Corporation of America (NYSE: PKG) was also up, gaining 10.78 percent to $ 60.43 after the company announced its plans to acquire Boise for $ 12.55 per share. 
Equities Closed DOWN
Shares of The ExOne (NASDAQ: XONE) got crushed, falling 8.78 percent to $ 50.80 as shares continued to fall after the company's secondary offering at $ 62 per share on Friday. 
Silver Standard Resources (NASDAQ: SSRI) shares tumbled 6.56 percent to $ 6.69. Silver futures surged 1.23 percent to close at $ 21.93 an ounce. 
Apple (NASDAQ: AAPL) down, fell 3.18 percent to $ 450.12 after sales of the new iPhone 5C were shrouded in mystery, much to the concern of traders. Apple shares have dropped 33.56 percent over the past 52 weeks. 
Industrial Production
Industrial production was the only significant piece of economic data to come out today.The metric showed 0.4 percent growth on August compared to July, but economists were looking for 0.5 percent. However, this is a big jump from July, which showed no growth.
Other News
After the fiasco on the Nasdaq several weeks ago, options trading was once again interrupted. Specifically on the OPRA, so options traded on the Nasdaq, NYSE, CBOE and BATS.
Two shooters who are allegedly still at large killed 12 people in a navy ship yard in Washington DC. Officials are urging the public to stay indoors.
Volume and Volatility
After last week's non existent volume, traders began returning to their desks. At last check 86 million shares of the SPDR S&P 500 ETF (NYSE: SPY) traded hands, compared to the three month average of 125 million.
The CBOE measure of volatility (VIX) was mostly unchanged on the day, up 0.35 percent to 14.22 nearing the close.
Commodities
Crude oil prices took a big hit today as the war premium wares off. Late in the day, WTI crude futures were down 1.78 percent to $ 106.28. Brent crude contracts lost 1.61 percent and were trading at $ 109.90.
Precious metals were mostly unchanged following last week's sell off. At last check, COMEX gold futures had gained 0.07 percent to $ 1,309.50 while silver had added 0.44 percent to $ 21.82. Platinum sport froll 1.16 percent nearing the equity market close.
Currencies
The U.S. dollar was basically unchanged on Tuesday. Heading into the close, the PowerShares DB US Dollar Index Bullish ETF (NYSE: UUP), which tracks the performance of the greenback versus a basket of foreign currencies, was down 0.25 percent to $ 21.93.
The closely watched EUR/USD pair was last up 0.32 percent to $ 1.3337. Other movers included the AUD/USD which rose 0.75 percent and the USD/Turkish Libra, which dropped 1.28 percent.
Global Markets
Asian markets were mixed overnight. The Shanghai index fell 0.22 percent with Hong Kong's Hang Seng up 1.47 percent. Japan's volatile Nikkei moved up just 0.12 percent on the day.
European markets recorded gains for the day. The Euro Stoxx index, which tracks 50 euro zone blue chips rallied 0.96 percent. London's FTSE added 0.59 percent, and France's CAC gained 0.92 percent.
Posted-In: Federal Reserve Gold Navy Platinum Silver SyriaFutures Commodities Forex Economics After-Hours Center Markets Best of Benzinga

Benzinga – Stock Market Quotes, Business News, Financial News, Trading Ideas, and Stock Research by Professionals