Market Wrap for Thursday, August 29, 2013: Syria and U.S. GDP Driving the Rally
Market Wrap for Thursday, August 29, 2013: Syria and U.S. GDP Driving the Rally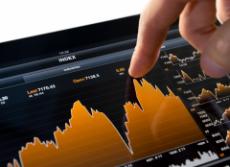 Market optimism is on the rise again. U.S. Economic activities showed significant improvements in a second-quarter and with Syria placed on a back burner, global markets gained confidence.
Major Movers
The Dow Jones Industrial Average climbed 16.44 points, or 0.11 percent closing at 14,840.95 .
S&P 500 rose 3.21 points, or 0.20 percent ending at 1,638.17.
NASDAQ Composite was up 26.95 points, or 0.75 percent to 3,620.30.
Economics
The U.S. is heading toward economic growth and recovery as is seen by the data released on Thursday. Second-quarter real GDP climbed to 2.5 percent, a substantial increase from the revised estimate of 1.7. On an employment front, Jobless claims declined to 6K in August 24 week, whereas last week's claims were at 13K. The reduced unemployment applications do not necessarily point to increased hiring though.
Eurozone
Stoxx Europe 600 index gained 0.8 percent to 300.13
FTSE 100 index also rose 0.8 percent closing at 6,483.05
For the first day this week, European markets are gaining. U.S. military actions against Syria seems to be subsiding; in an interview on Thursday, President Barack Obama stated that final decision has not been made on Syria.
In U.K., politicians and public strongly oppose the Prime Minister, David Cameron in his argument to get directly involved in Syria. British parliament is still to decide next week on the issue.
In addition to reduced fears on Syria, news of a potential deal by Verizon Communications Inc. to buy back its forty five percent stake from Vodafone Group PLC have especially helped European markets to advance on Thursday.
Commodities
Oil prices are cooling down as Syria is out of the picture for now and on the fact that there is an excess supply of three million barrels for the week. Crude Oil at WTI was down by 1.15 percent to 108.83, while Brent declined by 1.45 to 115.16. Gold erased 0.76 percent ending at $ 1,408.00, Silver headed the same direction as gold losing 2.05 percent to 23.89.
Bonds
The iShares Barclays 20+Year Treasury Bond ETF (NYSE: TLT) up by 0.78 percent to close at 106.09 Treasury yields are mixed: 5-year yield increased by 0.01 points to 1.60 percent, 10-year is down by 0.03 points to yield 2.75 percent, and 30-year also declined by 0.05 points to 3.70 percent.
Currencies
EUR/USD was down 0.72, closing at 1.3242, GBP/USD has also declined by 0.12 percent ending at 1.5507, and USD/JPY increased by 0.54 percent to 98.2165
PowerShares DB US Dollar Index Bullish ETF (NYSE: UUP), which tracks the performance of the United States Dollar versus a basket of foreign currencies, was rose by 0.64 percent at 22.15.
Volatility and Value
VIX S&P 500 was up by 1.70 percent, ending at 16.77.
The volume keeps on declining; SPDR S&P 500 (NYSE: SPY) increased by 0.18 percent to 84,209,939 consistent with the overall market gains.
Stock Movers Up
US Airways (NYSE: LCC) climbed 4.2 percent on possible settlement with Department of Justice in regards to a merger with American Airlines.
Monster Worldwide (NYSE: MWW) rose 8.9 percent as there are speculations the company will buy back more shares on the open market.
Stock Moves Down
PetroLogistics (NYSE: PDH) declined by 2.3 percent after company lowered distribution estimate to $ 1.59 per unit from previous $ 1.71 per unit.
Posted-In: Market WrapNews Rumors Economics After-Hours Center Markets Best of Benzinga

Benzinga – Stock Market Quotes, Business News, Financial News, Trading Ideas, and Stock Research by Professionals