Market Wrap For Tuesday, October 22: Weak Jobs Report Dismisses QE Tapering Concerns
Market Wrap For Tuesday, October 22: Weak Jobs Report Dismisses QE Tapering Concerns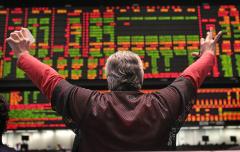 Markets bounced higher Tuesday on weak September jobs data as the likelihood for Federal Reserve tapering dives. Correspondingly, treasury prices soared higher, sending the ten year yield to a three month low.
Major Averages
The Dow Jones Industrial Average rose 75.46 points, or 0.49 percent, to 15,467.66.
The S&P 500 climbed 10.01 points, or 0.57 percent, to 1,754.67.
The Nasdaq Composite gained 9.52 points, or 0.24 percent, to close at 3,929.57.
The Russell 2000 added 3.15 points, or 0.28 percent to finish at 1,115.63.
Job Data
September's unemployment rate was announced as 7.2 percent, compared to 7.3 percent in August. Despite the drop, only 148,000 non farm jobs were added for the month, while economists were expecting 180,000. 126,000 of these positions were in the private sector.
Stock Movers
Nu Skin Enterprises (NYSE: NUS) shot up 8.39 percent to $ 111.78 after the company reported upbeat third-quarter earnings and issued a strong Q4 outlook.
Whirlpool (NYSE: WHR) gained 11.62 percent to $ 146.19 after the company reported a strong rise in its third-quarter earnings.
Transocean (NYSE: RIG) was also up, gaining 5.97 percent to $ 49.35 after the news that the company would be added to the S&P 500 hit the wires.
Coach (NYSE: COH) tumbled 7.53 percent to $ 50.10d after the company reported a drop in its Q1 profit.
E-Commerce China Dangdang (NYSE: DANG) gave up 13.44 percent to fall to $ 10.05 after the company issued weak Q3 revenue forecast.
Netflix (NASDAQ: NFLX) dropped 9.15 percent to $ 322.47 as traders suddenly questioned the strength of the company's earnings fueled rally and rushed for the exits.
Commodities
Energy prices were mostly down Tuesday, with WTI and Brent mixed. Near the close of equities, WTI crude futures fell 1.43 percent to $ 97.80. Brent futures gained 0.26 percent to $ 109.92. Natural gas was last down 2.02 percent on the day.
Conversely, precious metals surged higher on the day. At last check, COMEX gold futures were up 1.93 percent to $ 1,341.20. Silver contracts gained 2.1 percent to $ 22.75 near the close.
Global Markets
Asian markets were mostly down last night. The Shanghai index fell 0.83 percent with Hong Kong's Hang Seng down 0.52 percent. Japanese markets were actually up, with the Nikkei gaining 0.13 percent.
European markets were mostly upon the day. The Euro Stoxx index, which tracks 50 eurozone blue chips gained 0.57 percent percent. London's FTSE rose 0.262 percent, and France's CAC added 0.43 percent.
Currencies
The US dollar once again tanked on the expectation that the Federal Reserve will not reduce its stimulus. The PowerShares ETF (NYSE: UUP) that tracks the performance of the greenback versus a basket of foreign currencies fell 0.56 percent to 21.35. The marks a year low for the dollar.
Because of the USD's weakness, the closely watched EUR/USD pair fell gained 0.74 percent to $ 1.3782. The other big mover on the day is the EUR/JPY, which rose 0.67 percent.
Volume and Volatility
After a week of heavy volume, trading normalized Tuesday. 123 million shares of the S&P 500 ETF (NYSE: SPY) traded hands, compared to a three month average of 121 million..
After leaping higher mid morning, volatility died down for the day. The CBOE measure of S&P 500 (VIX) gained 1.22 percent to 13.32.
Posted-In: Federal Reserve Market WrapEarnings News Eurozone Futures Commodities Forex Econ #s After-Hours Center Markets Best of Benzinga

Benzinga – Stock Market Quotes, Business News, Financial News, Trading Ideas, and Stock Research by Professionals