Market Wrap For Tuesday, September 24: Markets Go Parabolic
Market Wrap For Tuesday, September 24: Markets Go Parabolic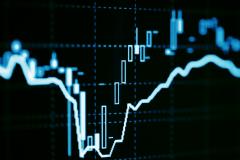 Equity markets spiked lower Tuesday morning, catching up with futures lows. However, a sharp recovery left markets flat on a day of heavy economic data.
Major Indexes
The Dow Jones Industrial Average dropped 66.79 points, or 0.43 percent, to 15,334.59.
The S&P 500 fell 4.42 points, or 0.26 percent, to 1,697.42.
The Nasdaq lost gained 2.96 points on the day, or 0.08 percent, to finish at 3,768.25.
The Russell 3000 gave up 1.61 points points, or 0.16 percent to finish at 1,018.99
Home Price Index
The month over month home price index was up one percent while analysts were expecting a 0.9 percent increase. Year over year, the reading is up 8.8 percent. Measuring the price of single family homes, the home price index is used to estimate changes in mortgage defaults and housing affordability.
Consumer Confidence
The Conference Board consumer confidence reading for September came in as expected, but is still a four month low at 79.70. The previous month's reading was 81.5.
Stock Movers
Greenway Medical Technologies (NYSE: GWAY) rose 19.09 percent to $ 20.40 after the company agreed to be acquired by Vista Equity Partners for $ 20.35 per share.
Applied Materials (NASDAQ: AMAT) rose 9.06 percent to $ 17.44 after the company announced its plans to acquire Tokyo Electron in an all-share deal.
Facebook (NASDAQ: FB) grew 2.69 percent to $ 48.46 after Citigroup upgraded the stock from Neutral to Buy.
Cypress Semiconductor (NASDAQ: CY) traded down 14.87 percent to $ 9.65 after the company lowered its Q3 forecast.
Red Hat (NYSE: RHT) shares tumbled 11.71 percent to $ 46.73 after the company reported Q2 results. Piper Jaffray downgraded the stock from Overweight to Neutral.
Carnival (NYSE: CCL) moved down 7.65 percent to $ 34.54 on disappointing Q3 results.
Commodities
Crude oil was mixed Tuesday. Late in the day, WTI futures were down 0.16 percent to $ 103.42 while Brent was up 0.6 percent 108.81. NYMEX natural gas futures were down 2.72 percent to $ 3.50.
Precious metals prices were also mixed on the day. Late in the day COMEX gold futures were down 0.22 percent to $ 1,324.10 while spot was up 0.11 percent to $ 1,324.12. Silver futures were down 0.42 percent to $ 21.77.
Volume and Volatility
The VIX fell 1.89 percent to 14.03 despite big market moves. Overall volatility remains relatively low.
As expected with several flip flops, volume was low on the day. Heading into the close, just 84 million shares of the SPDR S&P 500 index (NYSE: SPY) traded hands, compared to the 127 million three month average.
Currencies
The greenback was generally higher on the day, with the PowerShares DB US Dollar Bullish ETF (NYSE: UUP) trading up 0.18 percent to 21.74.
The widely traded EUR/USD pair was down 0.15 percent to $ 1.3473. Other key movers on the day include the AUD/USD, which fell 0.43 percent, and the GDP/USD which dropped 0.24 percent.
Global Markets
Asian markets moved down overnight. The Shanghai index fell 0.61 percent with Hong Kong's Hang Seng down 0.82 percent. Japan's Nikkei dropped just 0.07 percent.
European markets recorded gains for the day. The Euro Stoxx index, which tracks 50 euro zone blue chips was up 0.57 percent. London's FTSE added 0.21 percent, and France's CAC gained 0.56 percent.
Posted-In: Brent Gold Silver WTIEarnings News Emerging Markets Eurozone Futures Commodities Forex Econ #s Economics Markets Best of Benzinga

Benzinga – Stock Market Quotes, Business News, Financial News, Trading Ideas, and Stock Research by Professionals