McDonald's Earnings Preview: Was The Menu Tinkering Worth It? (MCD)
McDonald's Earnings Preview: Was The Menu Tinkering Worth It? (MCD)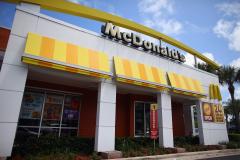 McDonald's (NYSE: MCD) is scheduled to report its third-quarter results Monday, October 21, before the markets open.
Investors will be looking to see whether new products such as chicken wraps and the focus on the Dollar Menu to entice budget conscious consumers have driven any improvement in same-store-sales, which have struggled of late.
See also: Taxpayers Foot $ 1.2 Billion Public Assistance Bill For McDonald's Employees
Expectations
Analysts on average predict that McDonald's will report that revenue for the quarter rose about 2.6 percent year-over-year to $ 7.34 billion. And per-share earnings are expected to come to $ 1.51, which would be up from $ 1.43 in the comparable period of last year and $ 1.38 in the second quarter.
That consensus earnings estimate has ticked up by a penny in the past 60 day. But note that the earnings per share (EPS) narrowly missed the consensus estimates in three of the past four quarters. The second-quarter EPS fell short of the street view by less than two percent.
McDonald's attributed domestic growth in the second quarter in part to new product launches, but international sales were flat, especially sluggish in China. The share price pulled back about one percent in the days following the second-quarter report before rebounding.
The analysts' consensus forecasts for the current quarter and for the full year so far call for growth of per-share earnings and revenues near or less than five percent, relative to the year-ago periods. Both consensus EPS estimates are the same as they were 60 days ago.
The Company
McDonald's remains the world's largest chain of hamburger fast-food restaurants, serving about 68 million customers daily at more than 34,000 restaurants in 120 countries around the world. This Dow Jones Industrial Average component was founded in 1940 and is now headquartered in Oak Brook, Illinois. Donald Thompson became president and chief executive in July 2012.
Competitors include fast-food companies Burger King Worldwide (NYSE: BKW), Wendy's (NASDAQ: WEN) and Yum! Brands (NYSE: YUM), and increasingly fast-casual restaurants such as Chipotle Mexican Grill (NYSE: CMG) and Panera Bread (NASDAQ: PNRA).
Burger King is expected to report a big drop in quarterly revenue when it reports later this month. Wendy's EPS is predicted to be down sequentially, with marginal revenue growth year-over-year. Yum! Brands fell short of EPS expectations when it recently reported, as it continues to struggle in China.
See also: Burger King Attempting An Image Makeover With Free 'Satisfries'
During the three months that ended in September, McDonald's announced that it would open its first location in Vietnam in 2014 and also introduced its Mighty Wings. The company saw workers strike for higher wages and sales in Europe improve, and it raised its dividend by five percent.
Performance
McDonald's long-term EPS growth forecast is more than eight percent, and the price-to-earnings (P/E) ratio is less than the industry average. The operating margin is greater than the industry average, and the return on equity is a healthy 37 percent, while the return on investment is more than 20 percent.
The number of McDonald's shares sold short declined more than six percent in the most recent reporting period, and that represented a little more than one percent of the total float. It would take more than two days to close out all of the short positions.
The consensus recommendation of the 27 analysts surveyed by Thomson/First Call who follow the stock is to hold shares, and it has been for at least three months. But the mean price target, or where analysts expect the stock to go, is more than nine percent higher than the current share price. That target would be a new multiyear high.
The share price has pulled back about five percent in the past three months and is below the 50-day and 200-day moving averages. Over the past six months, the stock has underperformed not only the Dow and the S&P 500, but also all the competitors mentioned above except for Panera Bread.
At the time of this writing, the author had no position in the mentioned equities.
Follow us on Twitter.
Posted-In: Burger King Worldwide Chipotle Mexican Grill McDonald's Panera Bread wendy's YUM! BrandsEarnings News Previews Trading Ideas Best of Benzinga

Benzinga – Stock Market Quotes, Business News, Financial News, Trading Ideas, and Stock Research by Professionals