New York Is Looking For New Casino Ventures, But Is The Gaming Market Saturated?
New York Is Looking For New Casino Ventures, But Is The Gaming Market Saturated?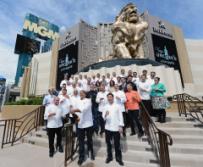 Earlier this week, on Election Day, New Yorkers voted in favor of expanding gaming venues in their state – by allowing the construction of up to seven commercially-operated casinos. Gov. Andrew Cuomo supported the amendment as a way to revive New York's faltering economy, and said it will "further pave the way for the creation of new jobs, construction, and increased tourism in communities across the state."
And now, the rush is on from gaming companies interesting in a piece of the New York State action.
Caesars Entertainment (NASDAQ: CZR), the country's biggest casino operator, was recently dropped from a casino venture near Boston, Mass. – and has reportedly expressed interest in building a Las Vegas-style casino near New York's border with Pennsylvania and New Jersey. And a top state official tells the New York Post several other companies – including Boyd Gaming (NYSE: BYD), Empire City and MGM (NYSE: MGM) among others, are also considering constructing casinos in the Empire State.
"The gaming industry has gone mainstream, with casinos in nearly 40 states across America," Geoff Freeman, president and CEO of the American Gaming Association said earlier this year – ahead of a meeting in Washington, D.C. between gaming industry representatives and some members of Congress. "Responsible for nearly one million jobs, gaming industry leaders today launched a dialogue with Republicans and Democrats on strengthening our nation's economy."
But there are also concerns that too many states are relying on casinos and other gaming establishiments for revenue. USA Today notes there are now 55 casinos in the Northeastern U.S. alone – and pointed to a September report from Moody's Investment Services on how casino revenue in Atlantic City has declined by 44 percent since 2006 due to an oversaturated market.
"Gambling legalization and expansion during tough times produces significant short-term revenue increases in some jurisdictions," said a 2011 report by the Rockefeller Institute of Government."But if experience is a guide, such growth will not continue over time."
Posted-In: American Gaming Association casinos gambling gaming Geoff Freman horse racingNews Movers & Shakers Contracts Economics Media General Best of Benzinga

Benzinga – Stock Market Quotes, Business News, Financial News, Trading Ideas, and Stock Research by Professionals