Post Office Expands Same-Day Delivery Test to New York
Post Office Expands Same-Day Delivery Test to New York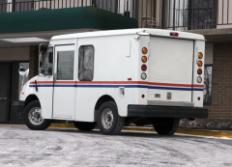 The U.S. Postal Service (USPS) is trying to expand its share of the small-package delivery market by taking its test of same-day delivery services to New York City. Bloomberg reported that the service has been testing such a service in San Francisco for about a year.
Amazon.com (NASDAQ: AMZN) CEO Jeff Bezos believes that same-day delivery is the next step in online retail. Bezos told 60 Minutes that his company is looking into a number of same-day delivery options, including drones. The USPS agrees and wants to test same-day delivery in America's largest city.
Amazon isn't the only company testing same-day delivery. eBay (NASDAQ: EBAY) is testing its own same-day delivery service using its own drivers and vehicles.
Amazon and the USPS are also testing Sunday delivery in New York and Los Angeles.
Related: Justice Department Digging Deeper in Probe of Wal-Mart Bribery Allegations
The USPS is working hard to increase its share of the profitable small-package delivery market because of the falling volume of first-class mail, its main business. The USPS lost $ 5 billion last year, according to media reports.
Increasing its small package volume will be an uphill battle for the USPS. The service's share of the small-package market is only 15 percent, according to Bloomberg. The major players in the small package market are UPS (NYSE: UPS), which has a 51 percent share and FedEx (NYSE: FDX) which has a 34 percent share. The news of the Postal Service's new efforts didn't hurt UPS. Its share price increased by .11 percent, or 11 cents, in Thursday afternoon trading.
FedEx's share price fell slightly by .34 percent on the same day. Amazon.com's share price also fell by .61 percent, or $ 2.34.
Posted-In: U.S. Postal ServiceNews Movers & Shakers Rumors Hot Markets Media General Best of Benzinga

Benzinga – Stock Market Quotes, Business News, Financial News, Trading Ideas, and Stock Research by Professionals