SLIDESHOW: Google Tops Apple, Hewlett-Packard Builds A SmartPhone & More From The First Week Of August
SLIDESHOW: Google Tops Apple, Hewlett-Packard Builds A SmartPhone & More From The First Week Of August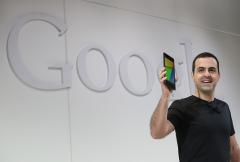 The last seven days have provided another round of enticing headlines for investors to examine.
For the first time in a while, Google (NASDAQ: GOOG) seemed to gain more headlines — and more positive attention — than its Cupertino, California-based competitor.
Apple (NASDAQ: AAPL) didn't stay out of the limelight though. In fact, it scored a few headlines for reportedly hiring Samsung (OTC: SSNLF) to build Retina Displays for the next-generation iPad Mini.
Google and Apple were two of many companies in the spotlight this week. Microsoft (NASDAQ: MSFT), Hewlett-Packard (NYSE: HPQ) and Earlybird Venture Capital were among the others building buzz in the tech world.
Louis Bedigian is the Senior Tech Analyst and Features Writer of Benzinga. You can reach him at 248-636-1322 or louis(at)benzingapro(dot)com. Follow him @LouisBedigianBZ
Google Play Downloads Surpassed Apple's App Store

Apple's (NASDAQ: AAPL) App Store is currently responsible for generating the most revenue for app developers.

Google Play (NASDAQ: GOOG) could soon catch up, as it is now the leading store for app downloads.

Google's downloads exceeded those of its Cupertino, California-based competitor by 10 percent.

Image Source: Wikimedia Commons

Apple Accepted Help From Samsung

Apple (NASDAQ: AAPL) has never produced an apple pie.

This week, the company had to eat a slice of humble pie after a report claimed that Apple would team up with its South Korean rival, Samsung (OTC: SSNLF).

Apple has reportedly tried to several ties with Samsung, but it has yet to find a proper replacement. No one has the manufacturing capacity that Samsung has amassed — in part by becoming a key supplier to Apple.

Image Source: Wikimedia Commons

Hewlett-Packard Is Poised To Make A Comeback

During the second quarter, Hewlett-Packard (NYSE: HPQ) reportedly lost its title as the largest PC vendor.

New reports claim that will change in the third quarter, thanks to at least one hefty contract from the Indian government.

Lenovo, which became the world's largest PC vendor after surpassing Hewlett-Packard, is expected to endure a shipment decrease next quarter.

Image Source: Wikimedia Commons

Microsoft Tweaked Xbox One

When's the best time to upgrade a console?

Do it before launch, of course!

Microsoft (NASDAQ: MSFT) has increased the clock speed of Xbox One from 800 MHz to 853 MHz.

The company has also updated the driver to one that is said to be 100 percent optimized for the new console.

Image Source: Wikimedia Commons

Earlybird Venture Capital Closed Fourth Fund At $ 200 Million

Earlybird Venture Capital's total capital under management now stands at $ 800 million (€650 million).

This week, the company closed its fourth early-stage fund at $ 200 million (€150 million).

"People used to think that innovation would be a victim of recession in Europe," Jason Whitmire, partner at Earlybird Venture Capital, told Benzinga.

"'Oh, what's gonna happen is, people are gonna run to all the established corporations and not startup companies.'

"The reverse has been happening. There's been an explosion of startups."

Image Source: Wikimedia Commons

Google Avoided Playing Favorites

As the owner of Motorola's manufacturing arm, Google (NASDAQ: GOOG) could give the company special privileges.

Instead, the search engine giant decided to baffle reporters by giving a slightly dated version of Android to the all-new Moto X.

No one knows the exact reason for Google's decision, but some speculate that it's because the company wants to remain impartial.

After all — there are dozens (if not hundreds) of manufacturers who rely on Android. If Google begins to provide Motorola with the latest and greatest OS before everyone else, those partners might not be very happy.

Image Source: Wikimedia Commons

Hewlett-Packard Is Building An iPhone Competitor

Hewlett-Packard (NYSE: HPQ) made headlines twice this week — first for its anticipated comeback.

Second, the PC vendor gained the public's attention when rumors spread that it is developing a new smartphone for release in 2013.

The device is expected to be released in the latter part of the year, likely around the same time that Apple (NASDAQ: AAPL) releases its next iPhone.

Image Source: Wikimedia Commons

Samsung Handsets Proved To Be More Satisfying Than Apple's iPhone

In the ongoing battle to lead the smartphone and mobile device market, Samsung (OTC: SSNLF) has gained a few points over Apple (NASDAQ: AAPL).

The Galaxy S III and Galaxy Note II earned an 84 out of 100 — the highest of any device listed in the American Customer Satisfaction Index.

Image Source: Wikimedia Commons

Before dropping the price to $ 349, Microsoft (NASDAQ: MSFT) learned that consumers don't want to pay $ 499 for a tablet.

Apple (NASDAQ: AAPL) fans might beg to differ, but now that the $ 329 iPad Mini is available, full-size iPad sales have plummeted.

Microsoft's luck has been even worse. The company revealed that Surface's revenue fell below the device's $ 900 million write-down.

Image Source: Wikimedia Commons

Tablet Market Expected To Soar In 2013 (And Beyond)

How big is the tablet market?

The current sales results seem to differ from the lofty expectations.

Nonetheless, NPD's DisplaySearch thinks that tablet sales will rise above 250 million units in 2013 and above 350 million in 2014.

This could be good news for Apple (NASDAQ: AAPL), who remains the industry leader despite the growing threat of new competitors.

Image Source: Wikimedia Commons

Moto X, iPhone Bans And More
Tags: American Customer Satisfaction Index, App Store, Apple, Earlybird Venture Capital, Galaxy Note II, Galaxy S III, Google, Google Play, hewlett-packard, iPad Mini, Jason Whitmire, Microsoft, Moto X, Retina Display, Samsung, slideshow, Surface, Xbox One
Posted in: Topics, Tech, General, Best of Benzinga

Benzinga – Stock Market Quotes, Business News, Financial News, Trading Ideas, and Stock Research by Professionals