SLIDESHOW: President Obama Saved The iPhone 4 And More From The Second Week Of August
SLIDESHOW: President Obama Saved The iPhone 4 And More From The Second Week Of August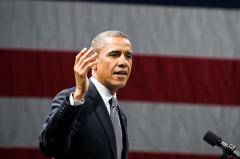 When Apple (NASDAQ: AAPL) needed help in its fight against Samsung (OTC: SSNLF), a surprising ally stepped forward.
This development proved to be one of many notable events that occurred this week, along with news of a price cut for the Chevy Volt price cut (which is permanent for the 2014 model) and a price reduction for the 2012 Kindle Fire HD (which is temporary).
Google (NASDAQ: GOOG), Groupon (NASDAQ: GRPN) and other tech titans also made headlines this week that you won't want to miss.
Disclosure: At the time of this writing, Louis Bedigian had no position in the equities mentioned in this slideshow.
Louis Bedigian is the Senior Tech Analyst and Features Writer of Benzinga. You can reach him at 248-636-1322 or louis(at)benzingapro(dot)com. Follow him @LouisBedigianBZ
President Obama Saved The iPhone 4

In an unexpected move that surprised many within the tech community, the Obama Administration overturned a ban on sales of older Apple (NASDAQ: AAPL) products.

They included the AT&T (NYSE: T) version of the iPhone 4, as well as older 3G versions of the iPad.

By overturning the ban, Apple can continue to sell the iPhone 4 until it is officially retired.

Image Source: Wikimedia Commons

Apple's Premiere Devices Dominated PC Sales

Few would argue that the iPad is a PC, but many consumers think of it as a PC replacement.

Thus, when Canalys combined the sales for all Mac and iPad models into one category, I found that Apple (NASDAQ: AAPL) dominated the industry during the June quarter.

Image Source: Wikimedia Commons

Nexus 7 Limited To 3.5 Million Units

Not that long ago, Google (NASDAQ: GOOG) was expected to ship as many as eight million next-generation Nexus 7 units this year.

A new report claimed that is not the case. Instead of eight million units, consumers will have to fight over just 3.5 million units.

Image Source: Wikimedia Commons

Google's "Flawed" Password Security Angered Some Chrome Users

Many IT professionals are aware that Chrome can store and reveal passwords for an endless list of websites.

Unfortunately, most consumers — and some software developers — were not aware of this feature.

When word leaked that this feature (which has been in Chrome for quite some time) exists, it created a bit of controversy for Google (NASDAQ: GOOG).

Image Source: Wikimedia Commons

Amazon Lowered The Kindle Fire HD's Price To $ 159

This temporary price cut brought the Kindle Fire HD down to the same price point as its standard-definition counterpart, which always retails for $ 159.

The price reduction came after it was revealed that Amazon (NASDAQ: AMZN) had begun to lose market share to other tablet makers.

Image Source: Wikimedia Commons

Haptics Market Expected To Reach $ 13 Billion

In roughly 12 years, the haptics market is expected to be worth $ 13.8 billion.

This is a 16-fold increase over the industry's current worth, which was less than $ 1 billion in 2012.

Immersion (NASDAQ: IMMR), whose haptics technology appears in everything from Sony (NYSE: SNE) game controllers to Nokia (NYSE: NOK) smartphones, is expected to benefit from the industry's growth.

Image Source: Wikimedia Commons

General Motors Cut Volt's Price By Nearly $ 5,000

Right now, General Motors (NYSE: GM) customers will pay roughly $ 39,145 for a new Chevy Volt.

When the 2014 model arrives in showrooms later this month, they'll pay $ 34,995.

The price cut is applied before the tax credit, which should bring the price down to around $ 27,495 for those who receive the full credit.

Image Source: Wikimedia Commons

Samsung (OTC: SSNLF), South Korea's largest tech manufacturer, is determined to release a competitor to every product Apple (NASDAQ: AAPL) develops.

In some cases, Samsung aims to release a product before Apple even commits to entering a particular market.

This seems to be the case with the smart watch. Samsung is reportedly developing something called Galaxy Gear, a device that would be worn on the wrist like a watch.

Little is known about the mysterious device, but with curved batteries coming this fall, Samsung could have the device in stores very soon.

Image Source: Wikimedia Commons

Groupon Hinted At Its Future

Groupon (NASDAQ: GRPN) doesn't want to be Wal-Mart (NYSE: WMT) or Amazon (NASDAQ: AMZN).

The company's new CEO, Eric Lefkofsky, recently speculated that the firm would transform into something closer to Costco (NASDAQ: COST).

"The way I envision it, it will be a highly curated selection of deals," Lefkofsky told AllThingsD.

"It's not going to be a big-box retailer like an Amazon or Wal-Mart; it's going to feel much more like a Costco with a select number of SKUs."

Image Source: Wikimedia Commons

Samsung Expected To Build Another Dual-Screen Phone

Is there any type of phone that Samsung (OTC: SSNLF) won't make?

The answer seems to be "no," particularly after a new report suggested that the South Korean tech giant will produce another phone with two screens.

Image Source: Wikimedia Commons
Tags: Amazon, Apple, AT&T, Chevy Volt, Costco, eric lefkofsky, Galaxy Gear, Google, Groupon, haptics, Immersion, iPad, iPhone 4, Kindle Fire HD, Nexus 7, President Obama, Samsung, volt, Wal-Mart
Posted in: News, Legal, Success Stories, Tech, Best of Benzinga

Benzinga – Stock Market Quotes, Business News, Financial News, Trading Ideas, and Stock Research by Professionals