Stores Can Now Charge Extra If You Use Your Credit Card, But Will They?
Stores Can Now Charge Extra If You Use Your Credit Card, But Will They?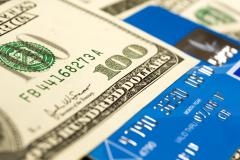 The headlines sound like ads from the latest Wes Craven horror flick. Watch out for the 'checkout fee'! screams CNN.
Credit Card Users Brace for Possible 'Checkout Fee'! cries Fox. Beware the credit card trap! hisses Inforum.
As reported by most news outlets, including Fox News, the story results from a legal settlement between card issuers and merchants that began in 2005 when retailers filed a class-action lawsuit against MasterCard (NYSE: MA) and Visa (NYSE: V), claiming the card issuers colluded to charge higher swipe or interchange fees.
The suit asked for and ultimately resulted in approval to charge shoppers a checkout fee. A $ 7.25 billion settlement last summer gave U.S. merchants the option to pass on the cost of swipe fees—payments merchants make to credit card issuers—to shoppers in the form of surcharges.
Because of the settlement, it is true that shoppers who pay using credit cards can now be hit with surcharges of up to 4 percent from retailers looking to offset interchange fees.
It is also true that the surcharges will probably not happen. At least not anytime soon, according to Rosemarie Clancy, Senior Editor at Credit-land.com. Clancy cites a National Retail Federation (NRF) statement saying few, if any, retailers are expected to pass the fee on to consumers for competitive reasons.
According to Clancy, the NRF also said that under terms of the settlement, a retailer who adds a surcharge to purchases on a Visa or MasterCard would have to do the same with American Express (NYSE: AXP) cards. American Express prohibits surcharge fees. Therefore, a merchant who accepts American Express could not add a surcharge for any cards
There are other problems for retailers. Those who do opt to impose checkout fees must notify shoppers about the surcharge and include details on customer receipts. They must also post signs in the store warning customers about the surcharge.
Many, like Clancy, subscribe to the NRF's belief that fierce competition in the marketplace will prevent most retailers from charging the fees. According to CNBC, this belief seems to be born out as many notable companies, including Sears (NASDAQ: SHLD), Target (NYSE: TGT), Wal-Mart Stores (NYSE: WMT), and Home Depot (NYSE: HD) have already said they will not add surcharges to credit card transactions.
In addition, 10 states—California, Colorado, Connecticut, Florida, Kansas, Maine, Massachusetts, New York, Oklahoma and Texas—have laws that prohibit surcharges.
Purchases made using debit cards, checks, and of course, cash, are not subject to any checkout fees.
So, the consumer wins? Not really. Interchange fees are not new. They have been around a long time and are already built into the cost of the goods you buy. Unless your favorite retailer goes rogue and starts charging the fee – and, keep in mind it would have to post signs and warn you – you will just not pay a fee as a separate charge for using your credit card.
Tags: CNBC, credit cards, Interchange Fees, sears, Target, Wal-Mart
Posted in: CNBC, News, Topics, Retail Sales, Media, General, Best of Benzinga

Benzinga – Stock Market Quotes, Business News, Financial News, Trading Ideas, and Stock Research by Professionals