The Week Ahead: Kicking Off Earnings Season
The Week Ahead: Kicking Off Earnings Season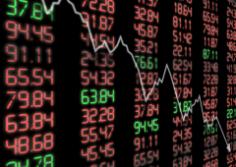 Finally, investors might get some relief from the politically-charged headlines.
On Tuesday, Dow component Alcoa (NYSE: AA) will release its most recent financial results. Earnings releases from the aluminum producer are traditionally seen as signalling the start of earnings season.
Analysts at Bank of America don't expect any excitement from the company. Bank of America reiterated its Neutral rating on Alcoa on Thursday, and $ 10 Price Objective.
Bank of America notes, "Despite aluminum's recent strength, oversupply remains a concern and we believe AA will continue to focus on cost cutting, productivity improvements, and ramping up of its minority stake Saudi Ma'aden JV project."
Alcoa has been a poor investment in recent years. Shares were trading near $ 40 before the 2008 financial crisis and resulting stock market collapse. But unlike many other Dow components, Alcoa never fully recovered, and is still down about 75 percent.
Since mid 2011, Alcoa shares have traded in a fairly tight band around $ 10.
Friday will bring the first earnings report from a major bank — Wells Fargo (NYSE: WFC).
Famed investor Warren Buffett has almost ⅕ of his Berkshire Hathaway fund invested in Wells Fargo shares.
Buffett famously remarked that, if he had the means to do it, he would purchase millions of single family homes and rent them out as an investment. On a practical basis, such an investment would be impossible.
Rather, Buffett invests in housing by investing in Wells Fargo. That worked well in 2012, when shares rallied about 20 percent.
Investors should look to Wells Fargo's results to get a sense of the housing recovery. If the housing recovery is ongoing, the bank's results could reflect that.
Goldman Sachs doesn't care for the bank ahead of its earnings report. On Thursday, Goldman downgraded shares of Wells Fargo to Neutral.
Goldman writes, "While we still believe that WFC is uniquely positioned to take advantage of the refinance wave, exposure to mortgage banking should be less of a benefit into 2014." Grocery store SuperValu (NYSE: SVU) also reports during the week, on Thursday, but its earnings might not be the only thing the company has to announce.
Shares spiked nearly 20 percent on Friday after The Wall Street Journal reported that Cerberus Capital Management was close to a deal that would see it acquire parts of the company.
In a note released Thursday, Citigroup notes that SuperValu has been rapidly closing the game in price between its offerings and Walmart's (NYSE WMT).
"During January Week 1, the price game with Walmart narrowed for…SuperValu…SuperValu saw the greatest narrowing," Citi notes.
In terms of economics, releases in the U.S. will be relatively light next week. More important will be international releases.
Thursday will be a key day on the economics front, with both the Bank of England and the European Central Bank releasing decisions on interest rates. Overnight Thursday will bring data on Chinese inflation.
With the fiscal cliff set aside, and the global election cycle finally finished, the first full week of January might offer investors a chance to follow more fundamental business activity.
Monday
Australian Trade Balance (Expected -2.30 billion)
Tuesday
Earnings from: Monsanto (NYSE: MON), Alcoa (NYSE: AA)
Swiss Unemployment (Expected 3 percent), Eurozone Retail Sales (Expected 0.3 percent), Unemployment Rate (Expected 11.8 percent), German Factory Orders (Expected -1.4 percent), Australian Retail Sales (Expected 0.4 percent)
Wednesday
Earnings from: Texas Industries (NYSE: TXI)
MBA Mortgage Applications, U.K. Trade Balance (Expected -9.1 billion), German Industrial Production (Expected 1 percent), Canadian Housing Starts (Expected 196,000), New Zealand Trade Balance (Expected 5 percent)
Thursday
Earnings from: SuperValu (NYSE: SVU)
Initial Jobless Claims (Expected 365,000), Continuing Claims (3.235 million), Wholesale Inventories (Expected 0.3 percent), French CPI, Brazilian CPI, U.K. Interest Rate Decision, Eurozone Interest Rate Decision, Chinese CPI
Friday
Earnings from Wells Fargo (NYSE: WFC)
Import Price Index (Expected 0.1 percent), Trade Balance (Expected -41.2 billion) Swiss CPI, U.K. Industrial Production Month-over-Month (Expected 0.8 percent), Canadian Trade Balance (Expected -1 billion)
Posted in: Analyst Color, News, Previews, Econ #s, Economics, Markets, Analyst Ratings, Trading Ideas, Best of Benzinga
Advertisement

Benzinga – Stock Market Quotes, Business News, Financial News, Trading Ideas, and Stock Research by Professionals