Windows 8 Adoptions to Rise in 2014
Windows 8 Adoptions to Rise in 2014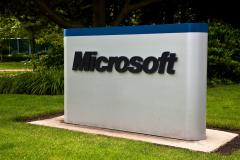 Nearly one month ago, Microsoft (NASDAQ: MSFT) celebrated the release of its next-generation operating system, Windows 8.
The new OS drew massive crowds in Times Square as customers lined up in anticipation.
On the eve of its release, one Windows 8 competitor disappointed investors after posting lower-than-expected earnings results.
Microsoft CEO Steve Ballmer recently estimated that there will be a combined total of 400 million Windows 8 and Windows Phone 8 devices produced in 2013. If that level of growth continues in the coming years, Windows 8 could surpass its predecessor, which sold its 600 millionth license last June.
Consumer demand is expected to rise in 2013, but some enterprise users may be less eager to upgrade in the coming year. They may want to hold on to their existing Windows machines (and continue using older versions of the software), which are still capable of performing day-to-day business tasks.
According to DigiTimes, that will change in 2014 as corporations and small businesses begin to make the switch to Windows 8.
At that time, sales of software upgrades and new laptops/desktops are likely to soar. This would be huge for the PC industry, which is currently expected to endure its first decline since 2001. Some argue that 2012 marks the year that the traditional PC officially died. But that is why Windows 8 was designed for more than your average mouse and keyboard setup.
In essence, Microsoft is drawing upon the wisdom of Apple (NASDAQ: AAPL) co-founder Steve Jobs, who once said that he skates to "where the puck is going to be, not where it has been."
Follow me @LouisBedigianBZ
Tags: Windows 8
Posted in: News, Rumors, Success Stories, Tech, Best of Benzinga
Advertisement

Benzinga – Stock Market Quotes, Business News, Financial News, Trading Ideas, and Stock Research by Professionals