Yahoo Paid $6.5M For Ptch, Unknown Sum For Evntlive
Yahoo Paid $6.5M For Ptch, Unknown Sum For Evntlive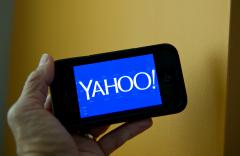 Yahoo (NASDAQ: YHOO) recently added two new startups to the family: Ptch and Evntlive.
According to BusinessInsider, Ptch (pronounced "pitch") came with a price tag of $ 6.5 million.
BI's sources claim that Yahoo didn't buy Ptch to acquire new talent. Rather, the company wanted the technology, which allows users to create movies using their own photos and videos from social media. Only three members of the Ptch team were reportedly hired by Yahoo. The rest have been or will be laid off when the service shuts down on January 2, 2014.
Ptch comes from an unlikely source. It was created by a company called DWA Investments, which was a spin-out of DreamWorks Animation (NASDAQ: DWA). DreamWorks Animation reportedly gave $ 10 million to the investment firm, which went on to develop Ptch.
Ptch supposedly blew through $ 6.5 million to get started. BI's sources claim that the deal was structured in a way that allowed DreamWorks to take the entire $ 6.5 million that Yahoo paid for the company, possibly allowing DreamWorks to break even.
However, Ptch employees — even those with an equity stake — received nothing for the buyout.
Related: Yahoo! Acquires and Prepares to Shut Down Mobile App Ptch
Contrary to this negative report, Ptch co-founder Hans Ku had an upbeat attitude toward the acquisition.
"Thank you so much for being a Ptch user and fan," Ku wrote on the company's official blog. "We are grateful for your support and look forward to bringing you more exciting products through the Yahoo platform in the future."
Ku is one of the three Ptch employees that Yahoo reportedly hired, so his comments may not be all that surprising.
Thus far, Yahoo seems to be taking a different approach with Evntlive.
According to AllThingsD, Evntlive's employees will join the Yahoo team after the existing service is shut down.
On its website, the company published the follow statement:
"When we started EVNTLIVE in early 2012, we set out to change the way that fans engage with live music online by creating an interactive, virtual venue. Since launching our beta service in April 2013, we have live streamed hundreds of performances from amazing artists and festivals to fans all over the world.
"Although our service will no longer be available, we are excited to be joining Yahoo's video team."
It is not yet known how much Yahoo paid for the company. Evntlive raised $ 2.3 million in seed funding, suggesting that Yahoo paid more than a few million for the firm.
Disclosure: At the time of this writing, Louis Bedigian had no position in the equities mentioned in this report.
Louis Bedigian is the Senior Tech Analyst and Features Writer of Benzinga. You can reach him at louis(at)benzingapro(dot)com. Follow him @LouisBedigianBZ
Posted-In: AllThingsD Business Insider dreamworks animation DWA Investments EVNTLIVE Hans Ku Ptch YahooNews Rumors M&A Startups Tech Best of Benzinga

Benzinga – Stock Market Quotes, Business News, Financial News, Trading Ideas, and Stock Research by Professionals